Individual Coaching

40-minute sessions... $60


Semi-Private 1 hour sessions

2 players.. ..$45 / player

3 players.....$40 / player

4 or more. ..$35 / player



Registration for all 2017 junior golf programs are live.



Little Linkers (Ages 4-6) $75

A four week, 45-minute program introducing young players to the game and golf swing. The course will introduce the fundamentals of the swing and short game through fun, interactive skill games. Class size is limited to a 4:1 ratio.


This class meets on Saturdays from 12:30pm-1:15pm.

Click here for Little Linkers Registration

******************************

Get Golf Ready Swing & Play Junior Program- $90

Open to Boys & Girls ages 7-17

A four week, 1 hour program introducing young players to the fundamental skills of the game. The skills learned will be: Scoring (putting, chipping, pitching & bunker play), Swinging (short & long distance). This program is integrated with the curriculum of the PGA Sports Academy. Class size is limited to 10 students and the age groups are Ages 7-10 & Ages 11-17

Ages 11-17 meet on Fridays at 4pm

Ages 7-10 meet on Saturdays at 1:30pm

Click here to register for GGR Swing & Play


***************************

After School Junior Clinics - $25 per session

Class is limited to 6 juniors per week. All participants must sign up in advance on a weekly basis. Class will focus on swing fundamentals and short game development.


Clinics will start the week of Tuesday, April 18th

Tuesdays 4:00pm - 5:00pm
Wednesdays 4:30pm - 5:30pm


Must call golf shop 452-5171 to sign up weekly.
********************************************

Tashua Glen Junior League (Ages 7-16)- $95

*This is our local junior league. All events are at Tashua
* Open to boys & girls ages 7-16 who have had some fundamental training
*6 week on-course league introducing light competition in a
two/three person team format.
*9 holes each week
*League is limited to first 32 players.
*Saturdays Tee times beginning at 3pm. Tee time posted on our webpage.

*Prizes awarded based upon pointed earned in your age division


Click Here for Junior Glen League Registration

Spring League will start April 15th
Summer League will start June 3rd
Fall League will start August 26th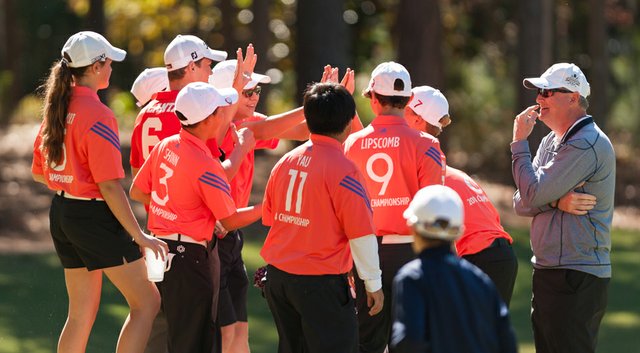 PGA Junior League Travel Team- Team Tashua

-Our 2017 PGA jr.league travel team is available for invited Girls & Boys ages 9-13 who have been involved with Tashua Junior golf.

- We expect to have (2) 13-U teams. Our travel team will compete in the New Haven league as in years past. We will compete against Racebrook, CC of New Haven & Great River GC, and a few other non-league teams.
- Team registration will begin in March. Practice will start the 3rd Thursday of June.
-Our matches will take place on either Sunday evenings.
For more information, please contact Team Captain, Bobby Brown, PGA Professional.

bobby@tashuaknolls.com

For more info:
Please visit
PGA Junior League Website
www.pgajlg.com

$249 / player
includes team shirt, tee shirt, cap, practices & matches


2017 Schedule
June 25 @ Racebrook 4pm